Second Issue fo World Dental Journal is Just Out
Second issue of WDJ is out with quality articles, a joy to read. CLICK HERE
Dental implants to soon cost just 3000 Rs
Dental implants could soon cost a tenth of what they do now. The Maulana Azad Institute of Dental Sciences (MAIDS), under the New Millennium Indian Technology Leadership Initiative by the Ministry of Science and Technology, has successfully developed a new, indigenous dental implant which will cost between Rs 2,000 and Rs 3,000. Screw-shaped dental implants, imported from countries like Israel and the US and used as replacements for missing teeth, cost up to Rs 20,000.
According to Dr Mahesh Verma, principal investigator of the project, five human trials have been successfully completed with the indigenous dental implant which has been fabricated by IIT Delhi engineers.
"A team of doctors from MAIDS conceptualized and designed the outline for the implant. After that we approached IIT Delhi, which designed the dental implant for us with the help of high-end computerized numerical control (CNC) machines," said Verma. Adding that that after the implant was fabricated, its prototypes were outsourced and trials were conducted on rabbits. FULL NEWS
Google Street View photo of 'naked man, think about what you DO
A Google Street View picture showing a nude man in the boot of a parked car in Germany has sparked debate on the internet.
The picture shows the car is parked on the driveway of a house in Mannheim in southwest Germany. A dog lies nearby surrounded by the contents of the sports car's boot.
The image has prompted a rash of internet speculation over what activity the man could be involved in, Daily Telegraph reported Tuesday. MORE HERE
Colgate offers new oral-systemic health textbook- GET IT FREE


A new textbook, Periodontal Disease and Overall Health: A Clinician's Guide, was released during the recent American Academy of Periodontology annual meeting in Honolulu, Colgate-Palmolive announced.
The book features 18 chapters of information regarding the relationship between oral and systemic diseases. Robert Genco, DDS, PhD, a professor of oral biology and microbiology at the School of Dental Medicine at the State University of New York at Buffalo, and Ray C. Williams, DMD, a professor and dean of the Stony Brook University School of Dental Medicine, co-edited the work.
"Distinguished clinicians and scientists worldwide have studied the relationship between periodontal disease and the risk for systemic conditions," Dr. Williams said in a press release. "It is our aim that this textbook will help document recent findings and put into context the latest information for students of dentistry and medicine."
The book was funded through an educational grant provided by Colgate-Palmolive. Ultimately, the textbook is meant to serve as a guide to continue the advancement of dental and medical practices, and to improve patient outcomes worldwide.
The textbook is available online for all dental and medical professionals, and can be downloaded at the Colgate Professional website. Hard copies are being distributed to dental school deans, academic deans, department of periodontics chairpersons, and directors of dental hygiene education programs. Additionally, CDs of this textbook are being distributed to dental school and dental hygiene program students and faculty. NEWSLINK    —— DOWNLOAD FREE BOOK
Health Care Trust Belgaum Conducts Oral health Camp at Vivekananda Orphanage
Health Care Trust conducted the above program with help of Colgate on 21 Nov 2010, all kids had dental check up and got free OH kits. See Pic Below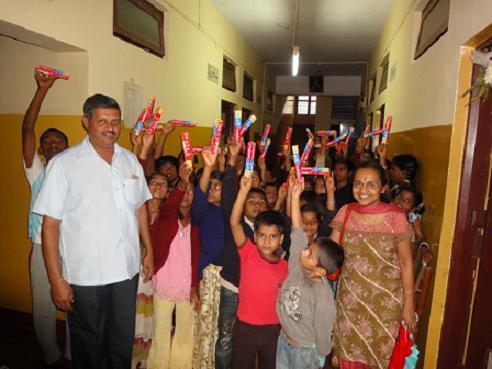 'Govt hospitals doing without dentists'
Demanding appointment on post of dentists lying vacant in government hospitals of UP, scores of dentists staged a protest at the Shaheed Smarak here on Sunday. They also called upon government attention towards their long-pending demand of creation of post of dentist at the level of primary and community health centres.
"Some 104 posts for dental experts are are lying vacant at various district level of health care facilities in Uttar Pradesh. This has been admitted in an RTI query filed by one of the dentist. The government should take step and start the proceedings for filling up of these posts," Dr Mujeeb Alam Ansari of the Dentist Welfare Association told reporters. The association rued that oral health care is on least priority of the state government. TIMESNEWS
Brushing is bad for your teeth!
A regular dip in the pool may not be the best way to keep fit… at least not for your teeth. You end up losing more than just flab the sparkle from your smile for instance.
A study conducted by Government Dental College and Hospital (GDCH) in the city shows that swimmers' teeth get eroded because of the chlorine added to the water in the pools.
Of the 500 swimmers examined for the study, about 66 per cent had their teeth worn off to various levels. But the damage was higher among those who brushed their teeth right after coming out of the pool.
"After the chlorine touches the tooth, the enamel gets softer, weakening the tooth. If you brush after that, it erodes the tooth further," said Dr Mansingh Pawar, dean of GDCH, Mumbai, India. MORE HERE
Teeth-whitening pen – just click, glide and go!
A portable and fuss-free treatment to keep teeth looking healthy and pearly white has been launched onto the dental market.
BriteSmile To Go Whitening Pen echoes the design and convenient application method of a cult beauty concealer pen.

It's an easy way to dramatically whiten your teeth at work, at home, or on your travels.
It can also be neatly popped in a purse, or in your pocket.
Simply remove the cap, click until a small droplet of the minty gel is visible, glide a thin layer directly on the front surface of your teeth and away you go! MORE